Thank you for contacting Good Vibes Roofing and Siding Inc., a representative will contact you shortly.
Welcome to
Good Vibes Roofing and Siding Inc.
CSLB# 1084693
Don't settle for blackened roofing that dampens your day -- create impactful first impressions with roofing that dazzles and looks brand new! Good Vibes Roofing & Siding Inc. can help you renew and restore your roofing in San Jose, CA. We offer competitive rates without compromising on quality. Schedule a consultation with an experienced roofing contractor today!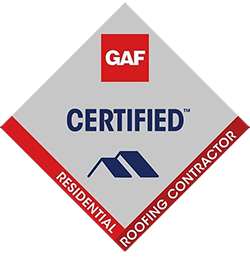 We are GAF Certified Contractors
When you hire a GAF Certified Residential Roofing Contractor, you have access to lifetime limited warranties with the best coverage in North America. With only 7% of roofers being GAF Certified contractors, we meet a professional standard of excellence and are up to date with the latest technologies.
WHAT WE DO
OUR SERVICES
When you're in need of roofing or siding services, choose the company that offers top-rated products and results that are backed by lifetime guarantees. To learn more about the products and services we offer, all you need to do is contact us today. Give us a call or fill out our online form, and we'll get you started with a free estimate and no-obligation consultation.

Residential Roofing
Residential roofs need to be protected from the elements. Whether the sun is beating down on a home or a rain storm is overhead, shingles will be used to protect a home from the elements. Good Vibes Roofing and Siding Inc. is an industry leader in shingle replacement and installation.
Siding
Allow our experienced craftsmen to cover your building with quality siding, at a fair price. Good Vibes Roofing and Siding Inc. installs the best product in the business, and ensures youre protected from wind, rain, and other effects of weather.
Do you have storm damage?
We do all of the heavy lifting. We work directly with your home insurance company to get your roof covered.
Why Choose Us
Good Vibes Roofing and Siding Inc. is dedicated to providing fast, high quality, professional services at the best rates. If you're looking for a roofing or siding company, Good Vibes Roofing and Siding Inc. can handle your problems! We cater to clients in San Jose, CA and nearby areas.
Licensed & Insured
Professional & Reliable
Adept Work & Fair Pricing
Request An Estimate
Schedule an inspection to get a free, no-obligation estimate.